Bootlegger is back! Famous for it's outrageously fresh seafood and laid back style, the place where "Sports Never Tasted So Good" has returned at last with the best sunset view north of Key West!
This time around, Bootlegger opens its doors to a fresh, fully renovated look, inside and out. From its Hi Def 52" TVs and JumboTrons, its very own swimming pool, to some of the best service around, Bootlegger is not only the place for Sports, it is the place to BE! find out more ...
Come by car or boat today and see what the new Bootlegger is serving up!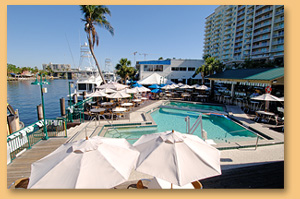 DIVE INTO THE MOVIES THIS SUMMER AT BOOTLEGGER!
Each Tuesday, a different FREE MOVIE will be shown poolside at Bootlegger! Watch from the pool deck, or hop onto one of our floats and enjoy the film from the pool!
Featuring a 15 foot screen for your viewing pleasure!
Table service available!
ALL MOVIES ARE FREE!!!!!!!!!!!!!!
Movies will be rated PG 13 or of lower rating to ensure a family friendly atmosphere.
July movies:
July 11: Ice Age 2 (a PRE - DVD RELEASE!!!)
July 18: Independence Day
July 25: Just Married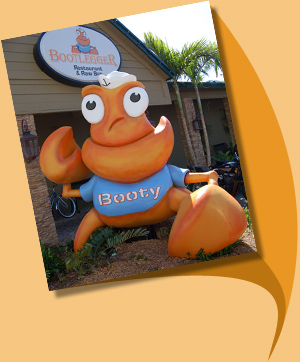 Booty Happy Hour Menu:
Raw Booty: ($4.99)
oysters
peel & eat shrimp
snow crab
steamers

Hot Booty: ($4.99)
Wings your way
Mini Booty burgers