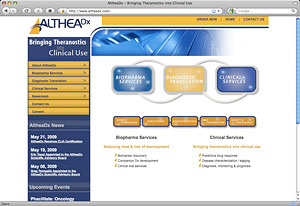 visit the site for Althea Dx
Althea Dx
DESCRIPTION
Althea Dx is a research and development company whose research is on the genetic level. Their work is critical to the advancement of certain medical treatments. Their bio states:

"Our proprietary gene expression profiles include assays for differential diagnosis of pediatric cancers and for improved diagnosis and management of prostate cancer. We have a track record of reducing the time, risk, and cost of drug development by providing biomarker discovery and development to biopharma clients and clinical testing services to physicians.

AltheaDx is located in a 20,000 sq. ft. building and operates laboratory service operations for biopharma customers in compliance with GLP requirements. CLIA certification is in process. The company has several key patents and technology affiliations with a variety of industry and academic institutions, including: NIH, NCI, UCSD, Sidney Kimmel Cancer Center, MD Anderson, and Memorial Sloan Kettering. "
LOCATION
San Diago, California
STATUS
ARCHIVED