Famous for it's outrageously fresh seafood and laid back style, the place where "Sports Never Tasted So Good" has returned at last with the best sunset view north of Key West!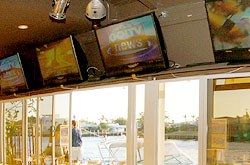 Bootlegger opens its doors to a fresh, fully renovated look, inside and out. And it is the PLACE for sports, boasting 29 Hi Def 52" TVs and 3 JumboTrons. For truly personal first-rate service for their fans, individual audio boxes are available at each table, so you can tune in your favorite team. And sportsmanlike conduct is key at this upscale sports bar where the staff offers some of the best service in town.
Bootlegger is also featuring a brand new menu! The tremendous dining experience is more than just in the delicious menu items. You can enjoy your meal inside our classy dining room, or outdoors taking in one of the best views on the intracoastal!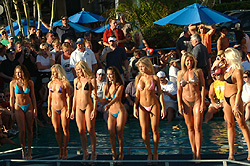 If that's not enough, Bootlegger is home to the most famous Hot Bod Bikini Contest in town! Watch as beautiful women glide across the pool bridge every Saturday and Sunday afternoon. Come early though – it gets packed for this event every weekend. Inquire about reserving their VIP Crow's Nest, which gives you a bird's eye view of all that the lovely ladies have to offer.
Oh and no that wasn't a typo, this bar does, in fact, have a SWIMMING POOL! And yes you can jump right in! Although, if you like your pool with more felt and less water you can challenge your friends to a game of billiards on our two pool tables.
Friday Happy Hour is 2 for 1, from 4 to 7 PM throughout the restaurant, with live music poolside.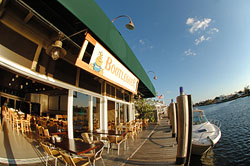 Come by car or boat today and see what the new Bootlegger is serving up!