Tinnitus hearing aid styles
There are 5 main styles of hearing aids. All are available in a variety of colors to blend with skin or hair.
Behind the Ear (BTE): All electrical components are in a compact case that sits behind the ear. Sound is delivered to the ear canal through a clear tube over the top of the ear and into a custom-made acrylic/silicone earmold. This style is sturdy and reliable and is a good choice for those with severe hearing loss. Its larger controls are easier for some people to adjust, and it typically uses a larger battery, which lasts longer and allows for easy manipulation.
Open-fit BTE: The open-fit concept means your ear canal is not entirely blocked. This allows natural sound to enter your ear, in addition to the amplification, and can provide a more natural sound quality. Rather than using a custom-made earmold, the BTE is attached to a thin tube that connects to a small ear tip, which fits comfortably in the ear. This style can accommodate mild to moderately severe high frequency hearing loss.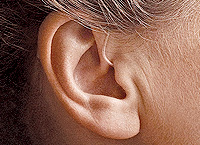 Receiver-in-the-Ear (RITE) or Receiver-in-Canal (RIC): The receiver fits comfortably in the ear, and the other BTE components sit behind the ear. The receiver is connected to the unit behind the ear via a thin wire. This type of hearing aid can be used with an open-fit style ear tip or a custom ear tip to accommodate a wide range of hearing losses. This style is very cosmetically appealing due to its small size.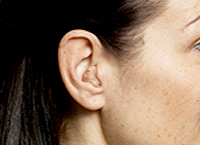 In-the-Ear (ITE): An ITE hearing aid is custom made in two styles: one that fills the entire bowl-shaped area of your outer ear (full shell) and one that fills only the lower part (half shell). Space for venting reduces the sensation of occlusion and makes your own voice sound more natural. The size is easier to handle than smaller instruments, and the full shell is powered by a larger battery that lasts longer. ITEs can accommodate accessories and special programming as well as a wide range of hearing loss.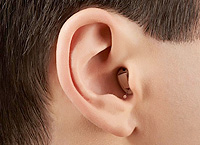 In-the-Canal (ITC): This is a custom-made, very cosmetically appealing solution that can be hidden in most ears. It uses a slightly larger battery than the CIC for battery economy and has an optional telecoil switch.
Completely-in-the-Canal (CITC): This device style is popular because it is one of the smallest options available, being almost invisible in the ear. It is custom-made, comfortable, convenient for telephone use, takes advantage of the ear's own natural sound-collecting design, and permits less wind noise.