Back
Robin Bertram Ministries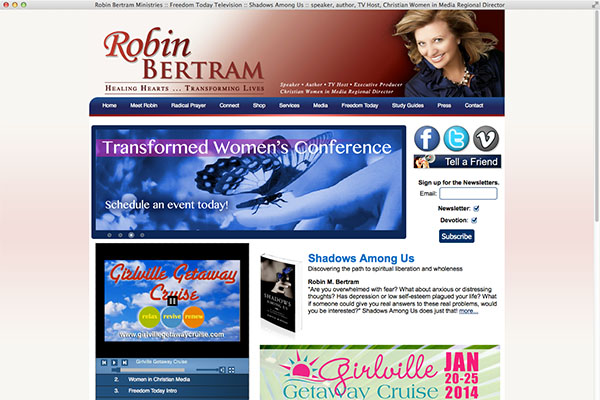 Robin Bertram hosts women's conferences and a syndicated television broadcast. Author of Among Shadows


LOCATION:
Hillsborough, North Carolina


STATUS:
Archive


QUOTE:
I have greatly enjoyed working with Astonished Man Design. I can give them project and know with confidence that it will be done with excellence and in a timely fashion. I highly recommend Astonished Man Web Design for all your web needs!
Robin Bertram
RobinBertram.org

Robin Bertram is one of the most passionate teachers of our time in the field of personal transformation. "Overcoming" and "Victorious" are two words that best describe Robin's life journey. With her infectious energy, empathetic spirit, and inspirational messages she offers a refreshing antidote to the self-help, talking head experts and "Oprah theology." For the past fifteen years she has reached many throughout the southeast with her positive messages about God's love, His grace, and the freedom we have in Jesus Christ. She has been very instrumental in the field of praying for transformation of the whole person; body, soul, and spirit.