Ever try to talk about God at a bar? Faith and clubs may seem unlikely companions, but powerhouse pop/rock trio Chasen sees no need to divide the two. Whether playing for crowds on Sunday at their hometown church, or on weekdays at clubs like House of Blues and Ashville's own Orange Peel, this new band's refreshingly unaffected honesty and hook-heavy rock sound right at home.
The band got its start in the church, writing praise and worship choruses for Sunday services and youth group events. Lead singer/songwriter and namesake Chasen Callahan pulled together fellow band mates - guitarist Evan Silver and drummer Aaron Lord - to help him compile an independent CD of songs Callahan had played at summer youth camps. The music was so good, the disc soon found its way into the hands of upstart label OMG, a small new entertainment enterprise in the historic West End of Greenville, South Carolina. Drawing inspiration from its location - well outside the modern music hubs of L.A., New York, and Nashville - OMG sought to find fresh talent in unexpected places, and saw the young band as a perfect debut for its roster.
OMG's hunch was correct. Since signing, Chasen has already tasted extensive success, despite not yet having a project in the marketplace. The band has toured heavily, opening for the likes of Reliant K, NEEDTOBREATHE, and mainstream rockers Sister Hazel. They've already seen an early single, "Crazy Beautiful," climb to a Top-5 position on Christian radio charts. Leveraging its forward-thinking predilection, OMG also orchestrated a cross-promotion with the Zipit Wireless Messenger 2, or "Z2," whereby national advertising for the hot new teen-targeted portable device prominently features Chasen's music.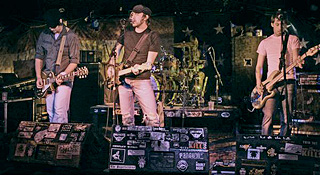 These accomplishments provide an impressive segue to the band's national debut, Shine Through the Stars. Showcasing their inspirational brand of rootsy pop, the 13-song collection is set to release in April 2008 for OMG Music and distribution partner EMI CMG. Chasen recorded the project at OMG Studios under the direction of award-winning producer Noel Golden, whose earlier credits include Matchbox Twenty, Edwin McCain, and Lee Ann Womack.
Sole songwriter and lead singer Callahan also contributed guitar and piano on the project. A prolific, self-taught musician, Callahan says his ability runs in the family. "When I was 13, I played drums for my dad's band" - an ensemble facetiously dubbed 'Potter Zye.' Dad next encouraged him to lead worship songs for the youth group at church, and Callahan's talent grew from there.
The songs on Shine Through the Stars center around trying to live a life of conscience and conviction amid a society where that pursuit can be polarizing. Writing candidly from his own experience, Callahan manages to provide a positive voice in his music without proselytizing, creating a project that is easily accessible to a wide variety of listeners.

Case in point is the radio single "Crazy Beautiful." In jangly, melodically-driven rock, the song offers an up-beat, healthy perspective on the pressure we all feel to maintain a camera-perfect image. "This song is for the ones who think they're not pretty enough or cool enough," Callahan explains. "The next time you look at yourself in the mirror, remember that God looks at us all the same. He's capable of making you exactly how you were intended to be." The song's sympathetic reminder that it's what on the inside that counts has propelled it up radio charts and connected Chasen with a host of teenage fans.