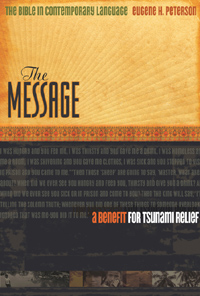 NavPress has revealed plans to raise upwards of $500,000 for tsunami restoration efforts by releasing a commemorative edition Message Bible. NavPress is contributing 100% of net proceeds of The Message: A Benefit For Tsunami Relief to a group of international relief organizations with a long-term commitment to countries in the disaster zone, including Compassion International, World Vision, Global Action, and The Navigator Tsunami Relief Fund.
The Message: A Benefit For Tsunami Relief includes a specially designed cover and a foreword written by Eugene Peterson, translator of The Message Bible. This commemorative edition is available exclusively online for $20 through the website www.message4relief.com.
Award-winning artists partnering with NavPress to raise awareness for this effort include Daniel's Window, Rebecca St. James, Michael Card, FFH, CeCe Winans, Jaci Velasquez, Avalon and Nichole Nordeman.