James Cotten has spent a decade learning the art and business of filmmaking.
While obtaining his degree in mass communications, James worked in local television in Ft. Smith, Arkansas, his home town. During that time, HBO entered, filming their movie, Tuskeegee Airmen. James was cast as a bomber pilot and "got the bug." He studied and taught acting for five years before truly realizing how much he enjoyed the entire process, but appreciated that time as an important part of becoming a good storyteller.
To fully understand the art through visual medium, James traveled to England. He attended The London International Film School, which had produced one of his favorite filmmakers, Michael Mann (Miami Vice, Heat, Collateral). There he studied production design with Gavin Bouqet (Star Wars Prequels). During his time overseas, James wrote and directed his first short, Lifeless, shown at the London Film Festival.
James returned to the states, and after some consideration, finished his schooling at The Los Angeles Film School. There he studied with many working professionals, such a Cinematography with Rex Metz (Jaws, SWAT, I Spy), David Klein (Chasing Amy, Clerks II) and Michael Barrett (CSI, Bobby, Kiss Kiss Bang Bang); Production Design with Lawrence Paull (Blade Runner, Escape from LA, Unlawful Entry), and Direction with Paul Verhoven (Robocop, Starship Troopers), Donald Petrie (How to lose a guy in 10 days, Miss Congeniality), Danielle Suissa (Pocahontas, Neowolf), Brad Battersby (Red Letters, Jesus the Driver).
This wealth of knowledge prepared James for the chance of a lifetime when Roger Corman entered to the doors, looking to use alumni in a co-production with the school. James was selected to direct.
With only an $80,000 budget, it was important to secure as many favors as possible. James enlisted Panavision and received free HD cameras which had only been used by George Lucas at that time. He also enlisted the famous computer animation school, Gnoman, to make a class centered around the film. James was praised by press and the industry for bringing Corman into new technologies, and produced a film the looked much better than its budget.
Demon Slayer has been in international distribution since 2002 and has a year long contract to play on the Sci-Fi Network.
While James prepared for his next project he has learned many facets of the business. He has worked at Regent Entertainment in both legal and distribution, as well as a script reader for development. He was in post management for HomeRun Entertainment. He has also worked as a casting director for Joey Lauren Adam's Come Early Morning, where he can be seen acting alongside Ashley Judd.
James returned home, where he spent a year and a half raising funds to accomplish his ultimate goal of producing a film that he had control of, a film he believed in.
Sugar Creek is a western fairytale, a sleepy hollow story set in rural Arkansas 30 years after the Civil War. Once again, James was able to turn very little into a lot. With the help of Arkansas re-in actors bringing Civil War memorabilia and costumes, donated goods and services, and friends' sweat, he was able to make the film for $400,000.
The film recently was nominated for Best Film at the Bare Bones Film Festival, and sold to Vanguard Cinema with a release date in late July.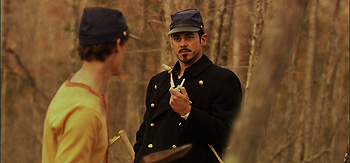 Executive Producers:
M. D. Graham
Adam Harrington
James Cotten
Producers:
Sean Argo
James Cotten
Director of Photography:
JP McCauley
Production Designer:
Griz Hayhearst
Wardrobe Designer:
Anastasia Hayhearst
Composer:
David Itkin

How to make a low budget film.
By James Cotten
The budget for Sugar Creek was $300,000 for production, and $100,000 for post and marketing. While to some, this is a lot of money… to a filmmaker, it's low, very low. Some thought I was crazy to try and pull off a film like this on such a low budget. I mean, we did every one of the cursed no-no's of low budget filmmaking. It's a period film. We had horses, child actors, guns and stunts.
I thought that I would share a few of the things that we were able to accomplish, to brag on a few people who managed the impossible, and made this movie a reality.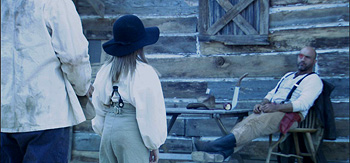 Goods, Services, and People
Executive Producer M.D. Graham had raised money for films before, but put up with me for a year and a half to raise the budget needed to make Sugar Creek. "M.D., you are a friend and a value to whoever you meet."
The Production team were stormtroopers in this battle. Sean Argo and Matt Yeager sat countless hours in the dungeon, making it all come together. Mike Hill brought years of experience and a no nonsense style to getting business done. Director of Photography JP McCauley's eyes made the movie an art show. Greg Wagnon… you're mentioned. All worked for just enough to live on.
Production Designer Griz Hayhearst, a member of the Early Arkansas Re-enactors, was the perfect fit for a movie based in the Civil War era. Not only did he make everything on little money, but he made it historically accurate. "Griz, you are my guru of history."
Griz's wife, Anastasia, the wardrobe designer, had been constructing Civil War costumes for years, bringing it all to the production of Sugar Creek. "I don't know how much time you spent behind the sewing machine, but your construction of the outfits was beautiful… I'm partial to The Horseman."
The Art Team, led by David Howlett, Ryan Lloyd, Jeff Hayhearst, and others, worked tirelessly for months on set construction. With help from local vendors, and extra lumber donated after a tornado, they were able to construct the town of Sugar Creek for $1200. "If that's not impressive..."
Action Jackson Stunts came to the set ready to work. Jackson Burns and his crew designed many of the stunts, saving so much time and money. Some team members acted in other positions to help, Pat Henderson as weapon's master and Minh Lucas helped with props. "It should be noted that Jack and Mike Ortiz came up with the stunt to pull Mike behind the horse on fire… a first on film."
Head Wrangler Jody Stelzig came in with his team, and horses, at a reduced rate because of their belief in the film. They spent many hours helping with safety and training. "Jody, you guys were the heart and soul of this film."
The score of the film was composed by David Itkin and performed by the Arkansas Symphony at a significantly reduced rate. David spent many hours writing the score, for free, which really changed the film from a small independent to a big movie feel. "David Itkin's belief in me is priceless."
Local Hero Post are life savers. They believed in it and gave more than you could ask for, or I paid for, to make sure Sugar Creek looked and felt like a professional studio flick, or a multi million dollar independent. "Doug Fox… you can get anything done, and Leo Marini… you are a sultan at combining technology with art."