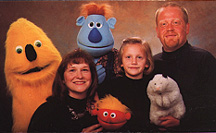 In His Hands Ministries is a team comprised of Bill, Becky and Heather Harness. Bill is an ordained minister with the Assemblies of God and is a graduate of Central Bible College. His wife Becky is a graduate of Arkansas State University with a Bachelors Degree in Elementary Education. Their daughter, Heather, is 7 years old and is in the second grade.
Bill and Becky were Lay Childrens Pastors at their home church in West Memphis, AR, for ten years. During that time they began to feel the call to full time ministry. They quit their jobs and moved to Springfield, MO in 1994 so that Bill could attend Central Bible college. After graduating in the Spring of 1996 they have been on the road as full time Children's Evangelists.
They minister all over the United States with the help of their daughter. With a unique combination of humor and the Bible, they share a message that does not have age boundaries. From the youngest to the oldest we understand that it is fun to be a Christian. Bill, Becky and Heather use puppets, songs, characters and illustrations tobring the message home to everyone.
They have ministered in churches, schools, camps, district councils, Missionette rallies and retreats, city events, Convoy of Hope, Royal Family Kids Camps, and college classes, crossing government and denominational barriers wherever they are allowed to use the gift God has blessed them with.
MISSION STATEMENT: OUR DESIRE IS THAT, THROUGH OUR MINISTRY, PEOPLE COME TO HAVE A RELATIONSHIP WITH OUR LORD JESUS CHRIST. NOT JUST TO BE SAVED AND TO ASK JESUS INTO YOUR HEART, BUT TO HAVE A RELATIONSHIP WITH HIM. SOMETHING THAT WILL LAST A LIFETIME. THAT FAMILIES GROW IN THE LORD AND BEGIN TO PUT JESUS BACK WHERE HE NEEDS TO BE, AS THE NUMBER ONE PRIORITY IN OUR LIVES AND IN OUR HOMES. TO STRENGTHEN THOSE THAT ARE ALREADY SAVED AND SPARK AN INTEREST, OR INCREASE THE DESIRE, TO EVANGELIZE THOSE AROUND YOU. TO LET THE WHOLE WORLD SEE AND UNDERSTAND THAT IT IS FUN TO BE A CHRISTIAN.