Natural Tinnitus Remedies
Tinnitus sufferers may be curious about the plethora of "natural" over-the-counter (OTC) vitamins, herbs, oils, or pills. We receive many questions about these.
Concerns and Considerations about OTC Products: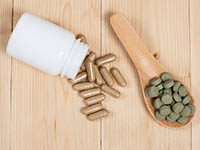 According to the Mayo Clinic, there's little evidence that alternative medicine treatments work for tinnitus. Some may even be harmful.
Supplements, vitamins, and similar remedies are not regulated by the FDA the same way that pharmaceuticals and medical devices are. They are classified as "food", and therefore do not require the same rigorous testing and labeling as medications.
There are currently over 40 different tinnitus treatment products for sale. In total, these contain over 190 different ingredients. Some have just 1-2 ingredients, while others have more than 30. Most lack explanation as to exactly how these treat tinnitus.
The number of adverse events associated with taking such over the counter supplements is increasing. (A U.S. consumer who experiences a bad reaction to a supplement may report it to the FDA by calling (1-800-FDA-1088) or online via the FDA's adverse event system. Consult the FDA website to see whether a supplement has been subject to warnings, alerts or recalls.)
A look at the ingredients found in common over-the-counter tinnitus remedies is concerning. For example, some compounds included are known to be toxic or poisonous. Others, such as quinine, are known to actually cause tinnitus. Many are simply ineffective. It is virtually impossible to distinguish the quality of one remedy from another.
Pills may have a systemic effect (your whole body is subject to the effects of the pill). In addition to risk associated with ingredients, dosage, and interactions, one cannot know if these are intended for a fast release, or a slow release. Nor can one know how long it takes for the ingredients to clear the body. For topical (skin) application of material such as oils or things put into the ear, it is unclear how these can be absorbed by the skin to relieve tinnitus.
For patients who believe they have found relief using tinnitus supplements or tinnitus herbs, it is possible that they are experiencing what is known as a "placebo effect".
Sound Therapy:
Sound therapy is natural, has been used to help tinnitus patients for many years, and does not involve surgery or drugs. It is available in many forms, including sound machines, CDs, sounds embedded in hearing aids, therapy tones combined with music, or even just a fan or air conditioner to provide background noise. Some patients also try acupuncture, yoga, hypnotherapy, mindfulness/meditation, or relaxation therapy/stress reduction as natural management strategies.